Xstrata and Glencore merger gets China approval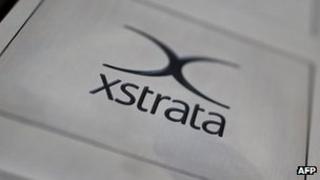 China has approved the merger of commodities trader Glencore and mining group Xstrata, clearing the final big hurdle in completion of the deal.
The nod came after Glencore agreed to sell its stake in Xstrata's copper mining project in Peru to a buyer approved by Chinese authorities.
It also agreed to supply a minimum volume of copper concentrate to China for a period of eight years.
The merger will form one of the world's biggest metals and commodities firms.
It was first announced in February last year, but the completion date has been pushed back several times, not least due to concerns over the influence the combined entity may have on the global commodity markets.
Win-win?
China, which is one of the world's biggest commodity consumers, had been examining what share a combined company would have in the market for copper concentrates.
Analysts said that by agreeing to sell its stake in the Peru project, which is being built from scratch, Glencore had not only satisfied a key concern of Chinese authorities but also that of many shareholders.
"Them being willing to sell Las Bambas shows there are no sacred cows in the eyes of the Glencore management," said Jeff Largey an analyst at Macquarie.
"It shows they think a little differently - they've always shied away from greenfield projects.
"If they can pull value forwards on Las Bambas by selling it, rather than taking on all the operational and execution risk associated with building it [and] bringing it to production, I think the market will reward them," he added.
Management changes
The two firms also announced a change to their management plan for the joint entity.
Xstrata's chief executive, Mick Davis, who was supposed to head the combined operations for the first six months, will not be doing so.
That would allow Glencore's boss, Ivan Glasenberg, to take charge of the operations straight away.
Some other senior executives of Xstrata would also be leaving the company, the firm said.
Mr Largey of Nomura said that the departure of these executives was an indication that the deal had clearly "turned into a takeover rather than a merger".
However, he added that the moves were not a surprise.
"We all knew Ivan Glasenberg was going to be the top dog, it was just a matter of time."