Pinewood studio agrees deal with Chinese media group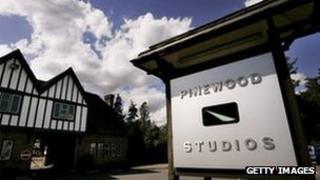 British film studio Pinewood Shepperton has agreed a joint venture with Chinese media group Seven Stars.
The deal is part of its international expansion strategy.
Both companies will initially invest $1m (£655,000) into the research of various business proposals, including potential co-productions and running film courses.
If successful, the investment will be increased.
"The Chinese market for content is the fastest growing in the world," said chief executive Ivan Dunleavy.
"If successful, the joint venture could provide significant opportunities for UK film and television producers."
Seven Stars is part of one of China's leading private media groups and its founder and Chairman Bruno Wu has been a leading figure in the international entertainment industry for over a decade.
"Taking Pinewood's experience and skills to that market in partnership with such an established and successful local partner is a truly exciting prospect," said Mr Dunleavy.
Global presence
Pinewood, which makes the James Bond movies, already has studios in Canada, Germany and the Dominican Republic, with facilities in Malaysia due to open in the next couple of months.
The rapidly growing entertainment industry in China led Pinewood to begin looking into ways to expand in the region.
Pinewood wanted a local partner to help make the expansion into the Chinese market as effective as possible.