Debenhams profits hit by bad weather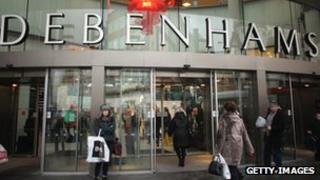 Department store chain Debenhams has reported a dip in profits after trading was hit by the bad winter weather.
Profits were £120.3m for the six months to 2 March, a fall of 5.4%.
But the company's like-for-like sales increased by 3.1%, driven by growth at its online operations.
Chief executive Michael Sharp said: "We made progress during the first half although snow in late January meant we did not achieve the profit outcome we had expected."
The results are in line with a profit warning Debenhams made last month, in which it said the January snow had hit sales hard.
UK like-for-like sales were down 10% during last two weeks of January, which marked the end of the winter sale.
Debenhams said it had taken action to try to recover sales in February, but it was not enough to recover the sales it had lost the month before.
"We expect to make further progress in the second half, despite consumer sentiment remaining weak and challenging market conditions," Mr Sharp said.
Some of that progress is expected to come from its online trading, where Debenhams said it had put in a market-beating performance in its first half, with sales up by 46%.
Richard Hunter at Hargreaves Lansdown stockbrokers said: "The company is regaining market share, whilst the vital part of a retailer's armoury, the online presence, is looking robust."
Debenhams completed refurbishments at nine of its UK stores in the half year. It intends to complete a further 12 by March next year.