Searching for India's billion-dollar start-up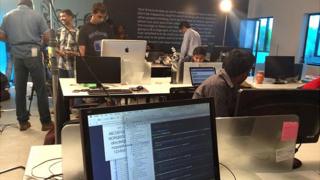 A group of young boys and girls are proudly demonstrating iFollow, an android application they have developed to promote safety for women.
A woman that has the app installed on her phone can activate it by shaking it three times in quick succession if she is threatened or in some sort of a danger.
This will trigger a voice call to three saved numbers. It can also send a text message to the saved numbers in case the call is unanswered.
One of the developers, Jinsu Mathew, says this is an example of how technology can help solve social problems.
It is a direct response to a series of rape cases reported in India in recent months.
Big ambitions
This and hundreds of other smartphone apps have been developed here at Startup Village, an incubator of ideas and innovations.
It was launched a year ago in the ancient city of Kochi, which lies in the Indian state of Kerala.
A public-private initiative, Startup Village's declared aim is to help launch 1,000 IT products in 10 years - and one of them should be a $1bn (£700m) student venture.
A tall order indeed, but Elizabeth Joy, a Startup Village official, says it's achievable.
In its first year of existence it has managed to catch the attention of big global smartphone players such as Blackberry. The recently launched BB10 platform includes 144 apps developed on the campus.
So impressed was the company with the available talent, that it launched its own innovation zone on the campus, called Rubus Labs.
Annie Mathew, of Blackberry India, says there is an awful lot of talent on the campus, which can be harnessed to achieve big things.
"The great talent that is out here is always looking to go abroad in search of new innovations," she says.
"This is our way of saying that we can help bring all that right here and solve India's problems right here."
The glass-and-metal modern campus and its lush lawns are like a playground of ideas for dozens of students dreaming of becoming global entrepreneurs.
Some want to be the next Bill Gates or the future Mark Zuckerburg. Some dream of creating the next Facebook or Twitter.
This is India's own little Silicon Valley, with angel investors and start-up funds in tow.
The walls of the campus building are decorated with larger-than-life-size posters of Bill Gates, Steve Jobs, Larry James, Sean Parker and Jeff Bezos.
This is perhaps a stark reminder that India, despite its massive clout in the IT world, has not been able to produce IT entrepreneurs as successful as the ones in posters.
Of course the country has its own IT heroes, such as Kris Gopalakrishnan of Infosys and Azim Premji of Wipro, but they made their fortunes in the IT services sector.
Acutely aware of this gap, the government of India and the Kerala state government set up the Startup Village in partnership with a clutch of private firms.
"Startup Village has been created with a view to bridging this gap", says Elizabeth Joy.
Avoiding pigeonholes
But experts say if the hub wants to achieve its goal, it needs to guard against becoming just an app store.
The criticism is based on the fact that so far it has launched very few products or companies, but it has developed hundreds of apps.
Elizabeth Joy says that apps will be developed because they are part of an IT company.
But, she adds, the focus is on helping young entrepreneurs develop products or launch IT software and hardware companies.
It is too early to gauge if Startup Village is on track to achieve its stated aim.
What's certain is that being the first formal hub for start-ups, it has triggered a start-up revolution in hundreds of Indian campuses.
Big ideas, such as Facebook and Google, didn't need air-conditioned campuses. They often come out of dorm rooms or as part of a PhD thesis.
Startup Village's custodians believe that the new start-up culture in the country is sure to produce India's first $1bn idea