Post Office staff stage half-day strike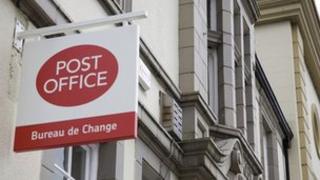 Staff at some of the UK's biggest post offices are on strike in a dispute over shop closures, jobs and pay.
To stem £40m-a-year losses across about 370 "crown" offices, the Post Office plans to move 70 from high streets into local retailers. About six will close.
The Communication Workers Union (CWU) says hundreds of jobs will be affected.
The walk-out began at lunchtime, and the CWU has warned that there could be further strike action.
The Post Office said it had to address losses. Some 97% of the network would operate as normal, it added.
Union warning
Crown offices are branches directly managed by the company - as opposed to locally-run by sub-post offices - mainly based in High Streets.
The CWU said the offices handle about a fifth of Post Office business and 40% of financial services sales.
The union said it expected Friday's action to close offices or lead to drastically reduced services and opening times.
CWU general secretary Billy Hayes said the plans amounted to "a Post Office closure programme in a desperate attempt to slash costs to meet government funding cuts by 2015".
He said the Post Office could "talk about transformation and sustainability all it likes".
"But the reality is that these are euphemisms for closing offices, drastically altering the make-up of the Post Office network and handing the running of services over to corporations which are built around other income streams and could walk away from Post Office services."
CWU national official Andy Furey warned that the dispute could escalate.
"If the Post Office doesn't face up to the concerns of its staff and the communities it's meant to serve, then we will waste no time in issuing notice for more strike action, increasing the frequency and duration," he told the BBC.
"We've tried to keep disruption to a minimum but this is clearly not getting through to Post Office management. Full day strikes will be next on the agenda."
'Not closing'
Kevin Gilliland, network and sales director at the Post Office, said it regretted "any inconvenience that may be caused by any strike action".
"Through our critical modernisation plans we intend to turn this part of our business around and keep Post Office branches on high streets across the UK.
"We will invest £70m in 300 Crown branches and are proposing to partner 70 branches with suitable retailers."
He stressed those 70 branches "are not closing".
"Any move to a retailer's premises would offer access to the same range of Post Office products and high levels of customer service in a new modern branch."
The CWU claims staff have not had a pay rise for two years and is calling for a rise in consolidated pay.
But the Post Office said a pay offer of three cash payments was "extremely fair".
"The CWU's unrealistic demands are delaying our people from receiving the first payment of £1,400, which is ready to be paid into their pay packets," Mr Gilliland said.