Business lobby group backs government push on EU deal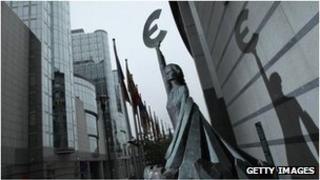 Hundreds of business leaders have formed a new lobby group Business for Britain to press the government to renegotiate the UK's deal with the EU.
The group backs David Cameron's plan to remake the UK's agreements with the EU if the Tories win the next election.
Some 500 business chiefs - including Lord Wolfson of Next and Sir Stuart Rose of Ocado - have signed a letter in Monday's newspapers backing the plan.
But other business leaders have said it is not possible to pick and chose.
As the prime minister unveiled his plan to renegotiate the UK's relationship with the EU and then hold an in/out referendum on whether to stay in the EU on those new terms or leave, the British manufacturers' association, the EEF, and the UK head of the accountancy firm Deloitte were among those to express doubts.
They suggested it could create uncertainty and lead to a period of "investment chill".
But in its letter in Monday's newspapers Business for Britain states: "As business leaders and entrepreneurs responsible for millions of British jobs, we believe that the government is right to seek a new deal for the EU and for the UK's role in Europe.
"Far from being a threat to our economic interests, a flexible, competitive Europe - with more powers devolved from Brussels - is essential for growth, jobs and access to markets."
Looser arrangement
The group's co-chairman is Alan Halsall, who heads the upmarket pram making company, Silver Cross. He said he thought the new group was needed because there was a misconception about the attitude of businesses to European Union membership: "Business for Britain has been formed because many would have you believe that business doesn't want politicians to try and renegotiate a better deal from Europe."
He said that the economy would do better with a more flexible, looser relationship with the EU.
John Mills, the founder of online retail business JML and the other co-chairman, said the group was politically neutral: "This campaign is not about taking political sides or backing the right horse - it's about doing what's best for British business."
He said he had been a member of the Labour Party for 40 years.
The lobby group's letter comes a week after a major survey by the British Chambers of Commerce suggested most UK companies wanted to stay in Europe, but with some powers brought back home.
Its survey of 4,000 businesses found 64% of those who responded said they favoured making adjustments to the UK's agreements with the EU.
Employment law was the number one area they wanted opt outs from.