Equitable Life compensation hit by mistakes and delays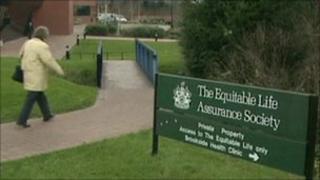 A system to compensate those who lost money on their pension investments with Equitable Life has been hit by "mistakes and delays".
The insurance company came close to collapse in 2000, creating one of the UK's biggest financial scandals.
A report by the National Audit Office says that a Treasury scheme of redress for those affected is at risk of missing targets on payments and costs.
Up to a fifth of policyholders, some 200,000 people, may never get payments.
"It is shocking that [so many] victims may never get their money," said Paul Weir, spokesman for the Equitable Members' Action group (Emag).
This was primarily because policyholders could not be traced, according to the report.
But Mr Weir said: "I am still hearing from people who are traceable, they have called the scheme and they haven't had a cheque."
'Desperate rush'
After years of official enquiries into the scandal, the government agreed to a compensation system in 2010, with the first payments being made by June 2011.
The Audit Office report said that not enough preparation work was done by the Treasury, and National Savings and Investments (NS&I) - which is administering the compensation.
The report said that only 35% of its total payments had been made, but 72% of the £57m administration budget had been spent.
The target of paying everyone who could be traced by the end of March 2014 was "at risk", the report said.
"Previous NAO work on government compensation schemes has shown that they can be difficult to set up and administer. In the case of Equitable Life, the government failed to take on board the lessons," said Amyas Morse, head of the National Audit Office.
"Not enough preparation was done in the short lead up to the scheme and problems emerging from poor data caused delays. The Treasury and NS&I will find it hard to make the remaining payments by the deadline given the scale of the challenge."
The watchdog is recommending that a new plan with a "more realistic timetable and budget" should be drawn up.
Margaret Hodge, who chairs the Commons Public Accounts Committee, said: "The desperate rush to start making payments by June 2011 meant the administrator, NS&I, tried to run before it could walk. As a result there have been mistakes and delays."