Greek privatisation bidder urged to improve offer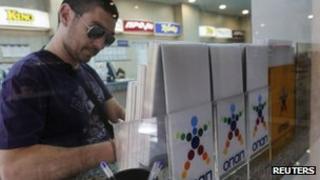 Greek-Czech investment fund Emma Delta has been given until 1 May to submit an improved bid for Greek gambling monopoly OPAP.
Its initial 622m euros ($812m; £526m) bid for a 33% stake was rejected for being too low.
The fund has been urged to bid at least 650m euros, though the stock market values OPAP at just 726m euros.
Greece is obliged to raise 9.5bn euros from asset sales by 2016 under an international bailout plan.
In return, the European Union and the International Monetary Fund have committed to 240bn euros since 2010 in rescue loans for recession-hit Greece.
'Uncertain revenue stream'
OPAP has a 10-year licence to operate 35,000 video lottery terminals, as well as the exclusive rights to operate 13 games of chance until 2030.
Emma Delta said that there was nevertheless much "uncertainty over future revenue streams" and that it had identified "internal structural problems" at OPAP.
Last year, OPAP made 505m euros net profits, a 6% fall when compared with 2011.
A rival bid for OPAP, placed on Monday by US investment fund Third Point, was not accepted as it violated the tender rules by including conditions.
Six others that had expressed an interest in OPAP did not place bids.
Observers say failure to secure a sale at a favourable price could make it more difficult to sell other, less profitable assets in the future.