MPs call for sole pensions regulator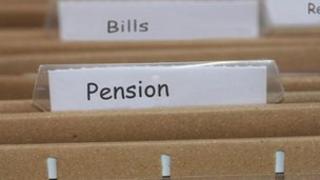 One regulator should be responsible for overseeing workplace pensions given that millions more people are set to be signed up to schemes, MPs have said.
Up to nine million more people will be signed up to workplace pension schemes through the auto-enrolment regime.
But a committee of MPs said that many workers would be ill-equipped to deal with the complexity of the pension saving sector.
Pensions experts have welcomed the idea of a single regulator.
"The [current] system is not only inefficient but positively dangerous," said Malcolm McLean, a consultant at Barnett Waddingham.
Michelle Mitchell, of charity Age UK, said: "With many more people being drawn into pensions savings through auto-enrolment, the government must take action now to ensure that all pensions meet minimum quality standards."
The Commons Work and Pensions Committee said that gaps in workplace pensions regulation could be made worse by the fact that three bodies were overseeing the sector, rather than one.
These were the Pensions Regulator, as well as the new Financial Conduct Authority and Prudential Regulation Authority, which were set up to replace the Financial Services Authority.
However, business lobby group, the CBI, said a single regulator was not needed because the oversight of schemes was equally rigorous across different sectors.
The committee also repeated concerns about the complexity of charges facing pension savers and called for an immediate regulatory review.
"They can seriously impact on an individual's retirement income," said Anne Begg, who chairs the committee.
"The trend towards lower pension scheme charges is welcome. However, a good average is not sufficient and we remain concerned by the potential for consumer detriment in schemes that persist in retaining high charges."