Car insurance prices starting to fall, says AA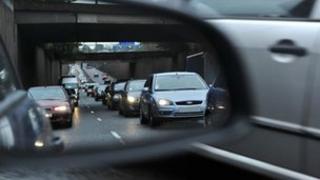 The cost of motor insurance has fallen by 4.1% over the last year, according to an AA survey of the cheapest deals on the market.
A typical premium among the most competitive products dropped by 1.4% in the first three months of the year, it found.
It said that changes in the law and competition among insurers had pushed down prices.
And it expects further falls as new reforms come into force.
The AA Insurance Shoparound survey takes an average premium for a standard set of risks from the five cheapest quotes from insurers and price comparison websites.
This has shown large rises in insurance costs over a three year period, but has now started to register a fall.
The average premium among the cheapest deals stood at £746.75, the survey found.
Claims clampdown
The AA said that controlling personal injury claims was key to keeping premiums down.
At the start of April, a ban was enforced on referral fees, which are paid by lawyers and claims management firms to breakdown firms, brokers and the insurers themselves - in exchange for providing information about accident victims. The government is also limiting legal fees.
In February, Aviva - the UK's biggest insurer - called for reforms to go further.
It wants to see a new process that would force whiplash victims to put their claims directly to the insurer of the driver who caused the crash. This would cut motorists' premiums by an average of £60 a year, it said.
Whiplash claims were a major factor behind the rapid rise in the price of motor cover. They account for 80% of injury claims, and with most going through lawyers, Aviva suggested that all this accounted for £118 of a typical motor insurance premium.
Meanwhile, the AA said that the cheapest home insurance deals were also falling in cost, down by just under 2% over the last year.