UK fraud probe for Kazakhstan mining company ENRC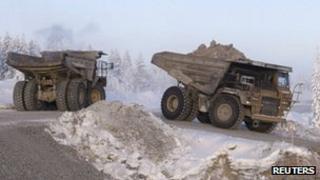 The UK's Serious Fraud Office (SFO) has started an investigation into Kazakh mining company Eurasian Natural Resources Corporation (ENRC).
One of the leading firms traded on the London Stock Exchange, listed in the FTSE 100 share index, ENRC is accused of fraud, bribery and corruption.
The company said it was fully cooperating with the SFO.
Last year ENRC set up its own investigation into allegations of illegal payments at the company.
ENRC is also investigating its operations in Africa.
The company's chairman, Mehmet Dalman, resigned earlier this week.
The SFO investigation comes a week after ENRC's three founders and the Kazakh government, which together own 55% of the company, said they were considering bidding for the remaining 45% of shares.
ENRC has mining operations in Kazakhstan, Africa and Brazil.