Honda profits boosted by weaker yen and overseas sales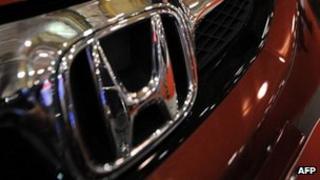 Honda has reported a 74% jump in annual profits, boosted by a recovery in overseas sales and a weak Japanese yen.
Net profit rose to 367.2bn yen ($3.7bn; £2.4bn) in the year to 31 March 2013, up from 211.4bn yen a year ago.
Honda has seen its sales in key markets recover, after natural disasters in 2011 affected its production and hurt profits in the last financial year.
A weak yen has also helped as it boosts profits when Japanese firms repatriate their foreign earnings back home.
The Japanese currency has fallen by almost 20% against the US dollar since November last year amid an aggressive monetary policy stance taken by the new government.
Analysts expect the currency to remain weak in the medium term as Japan's central bank pushes ahead with its policies aimed at stoking inflation and consumer demand.
That is likely to help profits of exporters such as Honda, which rely heavily on overseas sales for growth.
Sales growth
According to its latest numbers, Honda sold 3.45 million vehicles in the year to 31 March 2012, a near 40% rise from a year earlier.
Honda said the growth was driven primarily by a "significant increase in automobile sales mostly in North America, Asia and Japan".
With demand in those markets continuing to recover, and with a weakening currency - which makes Japanese goods more attractive to foreign buyers - its sales are expected to rise further.
Honda has forecast its global car sales to rise by 7.7% to 3.67 million vehicles in the current financial year.
It has also projected a net profit of 580bn yen for the financial year to 31 March 2014.