BHP Billiton sells Arizona copper mine to Capstone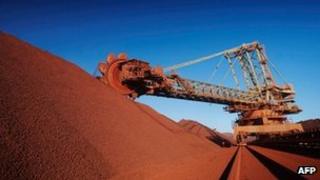 BHP Billiton, the world's largest miner, has agreed to sell its copper mine and a railway in Arizona to Capstone Mining Corp for $650m (£419m).
BHP has been looking to restructure its business and offload non-core assets, amid a decline in global demand and falling commodity prices.
Earlier this year, it reported a 58% fall in half-year net profits.
The mining group has said that it wants to focus on core businesses such as iron ore and coal.
It has announced divestments worth nearly $5bn in the past 12 months, including selling its stake in the Browse liquefied natural gas (LNG) project in Western Australia to PetroChina for $1.63bn.
It has also sold its Ekati mine in Canada and its diamond marketing operations to Harry Winston for $500m and offloaded holdings in Richards Bay Minerals in South Africa and Yeelirrie in Western Australia.
"The sale of Pinto Valley is an excellent outcome for BHP Billiton shareholders. It is consistent with our strategy," Peter Beaven, president copper at BHP Billiton, said in a statement.
The transaction is subject to regulatory approval and is expected to be completed in the second half of this year,