Pinewood Shepperton to build US studio near Atlanta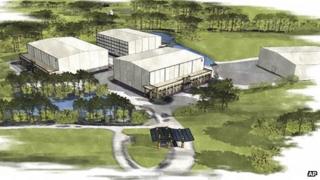 UK film studio Pinewood Shepperton has announced plans to build its first sound stages in the United States.
The Pinewood Atlanta complex will be built on 288 acres of land south of Atlanta, Georgia, as a joint venture with a US investment company.
Georgia has been among the US states drawing film-making away from Hollywood with tax incentives in recent years.
The deal is the latest sign of expansion at Pinewood, the home of the James Bond franchise.
Earlier this month it announced a joint venture with a Chinese media group, potentially giving it access to the fast-growing Chinese market.
'Fiscal incentives'
In a statement on the company's website, Pinewood's chief executive Ivan Dunleavy said the agreement to build Pinewood Atlanta was "another step forward for the Pinewood brand internationally".
"This new studio will target US productions," he said. "Georgia has excellent fiscal incentives and a great crew base."
In a bid to lure film making, Georgia introduced hefty tax incentives for production companies five years ago.
Since 2008, film and television productions in Georgia have been able to receive a tax credit of 20-30% if they spend $500,000 or more, and a further 10% if they feature a Georgia-peach logo.
That has led to a boom in productions. According to state figures, productions filmed there generated more than $3bn (£1.9bn) last year, compared with just $244m five years ago.
Pinewood Atlanta will feature multiple sound stages, and will be used to produce films, television, music and video games.
It is being built in conjunction with investment firm River's Rock, and Pinewood said it expected construction to begin immediately.