Santander chief Saenz steps down after legal battle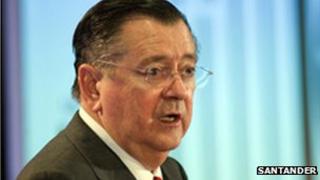 Santander's chief executive Alfredo Saenz, 70, has stepped down after a long legal row over whether he should remain in his post.
The eurozone's largest bank said it had appointed Javier Marin, 46, the head of its insurance arm, to succeed him.
Santander said Mr Saenz, who had been at the bank since 1994, decided to leave voluntarily.
He was involved in a legal battle over whether having a criminal conviction should bar him from his role.
Mr Saenz is widely credited for turning Santander from a regional Spanish bank into one of the sector's global leaders.
In a statement announcing the resignation, Santander cited Mr Saenz "extraordinary achievements" at the bank.
However, in a dispute stretching back more than a decade, Mr Saenz received a suspended prison sentence over filing a false complaint against shareholders.
A legal battle over banking ethics and whether he was fit to remain in his post went to Spain's Supreme Court, and earlier this month the Parliament passed a law that could actually have made it easier for him to stay in his post.
But in a fresh twist this month, the Bank of Spain opened new proceedings to decide Mr Saenz's fate.