Chrysler profits fall hurts majority owner Fiat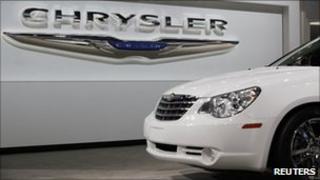 Chrysler's first-quarter net profits fell 65% as the third largest US carmaker shipped fewer older cars in preparation for new product launches.
The company, 58%-owned by Fiat, earned $166m (£107m) in the January to March period, on revenues down 6% to $15.4bn.
Consequently, Fiat's net profits tumbled to $166m from $473m a year ago.
New Chrysler models include a replacement for the Jeep Liberty, which has ended production.
Chrysler's vehicle shipments fell 6% to 574,000 in the quarter, but Chrysler expects this to rise 13% over the next three months.
Chrysler said it still expected 2013 net revenues of $72bn-$75bn, boosted by a strong second half of the year.
"We remain on track to achieve our business targets, even as the first-quarter results were affected by an aggressive product launch schedule," said Sergio Marchionne, who is chief executive of Chrysler as well as Fiat.
Earlier this month, he said that there was a 50% chance that the Fiat buyout of Chrysler would be completed by June 2014.
If Fiat buys and then merges with Chrysler, it would create the world's seventh-largest automaker.