Rockefeller Foundation celebrates 100 years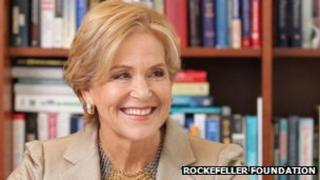 As the Rockefeller Foundation celebrates its 100th anniversary, the head of the philanthropic organisation has warned of the challenges the world faces in the 21st Century.
Judith Rodin says the foundation is working on building greater resilience against unpreventable shocks.
It is also focusing on building more equitable growth, she told the BBC.
US industrialist John D Rockefeller set up the foundation "to promote the well-being of mankind throughout the world".
Ms Rodin, who has been president of the Rockefeller Foundation since 2005, says over the past century the group has made several enormous achievements which it is proud of.
"We founded the field of public health and brought public health to dozens and dozens of countries around the world," she says.
She also cites the foundation's work on the Green Revolution, which started with agriculture development in Mexico in the 1940s and has since spread the research and technology development to other countries, and is credited with saving a billion lives.
'Thought leadership'
John D Rockefeller made an initial gift to the foundation of $35m in 1913, and it now has an endowment of about $3.6bn.
It may have been the US's first global foundation, but today the world in which it operates is very different, as there are many more global actors - both other philanthropic organisations and governments.
And of course, Rockefeller (and most other private foundations) is dwarfed in size by the Gates Foundation, which has assets of more than $36bn.
But Ms Rodin says that regardless of a foundation's size, philanthropy is about being strategic and innovative.
The Gates Foundation is also Rockefeller's partner in the Alliance for a Green Revolution in Africa, and Ms Rodin says it is a "terrific" partner.
"It's [about] both thought leadership together as well as resources. Sometimes it's not only about the money, it's also about the history and the knowledge and the experience as well as the money, and we often provide that for many of our partners."
Changing world
Ms Rodin believes there are two "huge fundamental" 21st Century challenges. The first involves building greater resilience.
"What we've seen in the last 10 or 15 years, and now occurring at an accelerated pace, is that we can't predict everything or prevent it, whether it's the next earthquake or massive flood... or the next financial ripple... or the next rebellion that's going to shake some region of the world.
"So we're going to have to learn to absorb those shocks and rebound more quickly and more effectively in the future, and Rockefeller has been doing an enormous amount of work on that resilience."
The foundation has just launched the 100 Resilient Cities Centennial Challenge.
It will select 100 cities and provide $100m of technical support and resources to build resilience against such future shocks - for instance, by building more robust emergency management systems or improved drainage systems. It will also help cities to try to raise additional money from potential private sector funders to realise their plans.
The second challenge, Ms Rodin says, is to think about how to approach more equitable growth.
"How do we think about livelihoods and jobs and opportunity in a developed world that looks so different than it did 20 years ago?"
To mark its centenary, Rockefeller has chosen as its tagline, "Innovation for the next 100 years", and Ms Rodin says it takes this message very seriously.
She wants Rockefeller to be remembered for being willing to be risk takers, for being disruptors "creating transformational things", for building new fields, and for always betting on people.
It has certainly had some good "bets" pay off in the past, having funded 220 Nobel prize winners, including physicist Albert Einstein and Norman Borlaug, "father of the Green Revolution".
As Ms Rodin says: "Because in the end, investing in great people with great ideas is what philanthropy should be about."