Spain's economy contracts for seventh consecutive quarter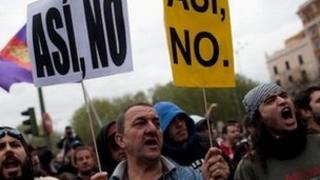 Spain's economy shrank for a seventh consecutive quarter between January and March as domestic demand slumped.
The country's gross domestic product fell by 0.5% compared with the previous quarter, according to the National Statistics Institute.
On an annual basis, Spain's economy shrank 2% in the quarter - the worst fall since the end of 2011.
Last week, Spain's government cut its forecast for 2013, saying it now expected the economy to shrink by 1.3%.
Its previous estimate had put the rate of contraction at 0.5%.
"We don't see Spain returning to growth until some time next year," said Nomura analyst Silvio Peruzzo.
Spain has struggled since the onset of the financial crisis in 2008 when its property bubble burst. As a result banks were left holding hundreds of billions of euros in bad debts, eventually needing government bailouts to survive.
Its latest jobless figures, published last week, revealed that the unemployment rate topped 27% in the first quarter of the year, with the rate of unemployment among people under 25 years old reaching 57.2%.
The economy contracted by 1.37% last year, the second-worst annual decline since 1970.