Digital doorkeys and more: Meet New York's latest start-ups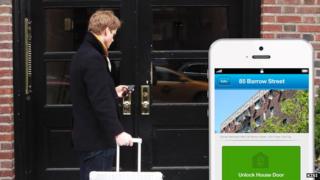 Imagine never having to worry about losing your housekeys again.
That's a problem that the founders of Kisi hope they have solved, by coming up with a way of using your smartphone to open your front door.
"Most people have the pain of handing over keys, or keys getting lost," says Kisi co-founder Maximilian Schuetz. "Kisi solves that."
Kisi works like this: if you live in an apartment block with an intercom, you insert a small chip into the intercom, on the door to your apartment itself you fix a digital lock, and finally you plug in the control unit inside your apartment.
Download the app, and hey presto you're ready to go. When you get to the door, you simply push a button on your phone, which sends a signal to the control unit or gateway in your apartment, which then tells the lock to open.
What happens if you lose your phone? Well, your details are actually stored in the cloud (you only access them via your phone) so you simply go online on another device, or else there's always a back-up of typing in a pin code.
Using the software, you can also give access to others remotely - for instance a cleaner or a visiting friend who arrives while you're at work, or a neighbour in case of an emergency.
"You can be in Bermuda and give someone access in New York," says Mr Schuetz. "So you save travel time and travel costs."
Kisi has just launched in New York, and is one of a growing number of start-ups hoping to take the city by storm.
"There's a surge in start-ups in New York right now because technology is becoming much more mainstream and along with that there's start-ups being founded in areas like e-commerce and fashion," says Josh Constine, writer at technology web magazine TechCrunch.
Fast money
TechCrunch holds two Disrupt events every year - one in New York and one in San Francisco - that give start-ups a chance to showcase their businesses.
This week saw budding tech entrepreneurs descend on the Manhattan Center, setting up stalls on "Start-up Alley" and hoping to catch the eye of potential investors.
Mr Schuetz and his fellow Kisi co-founder Bernhard Mehl are originally from Germany but having studied in New York and already having many connections with the city, they decided to base the company here.
"They adapt faster to new technology here. Germany is very conservative," Mr Schuetz says, adding that New York has very good networking opportunities.
Mr Constine points out the difference in expectations between investors on the East Coast and the West Coast.
"My general philosophy is that New York is more interested in companies that make money sooner - things like e-commerce and fashion [where] you can create a website and start getting sales in days, or you can build a great platform and start testing it really quickly, whereas San Francisco is more focused on long-term, more risky bets."
'Realisation'
Spacebar is one company that has certainly developed very quickly.
Founders Greg Miller and Jonathan Cottrell began working on the app - which allows users to stream the audio of live music performances directly to their mobiles - in the autumn and launched this week.
Musicians download the app and then the performance is streamed using a venue's wi-fi.
The app is free to download and users can listen to a free five-minute preview of a show, before deciding if they want to listen to the whole show for a fee of 99 cents or $1.99.
Though headquartered in San Francisco, they decided to launch in New York because of the "great music scene", says Mr Cottrell. "There are a number of iconic venues and many talented emerging musicians."
The company already has several New York venues signed up and around 200 emerging artists.
"It began with a realisation that technology has made it really hard for musicians to make a living," says Mr Miller. "So we thought, 'what can we do using existing technology [to try to change that]?'"
Live streaming gigs is not necessarily new, but Mr Cottrell says that while many others are chasing video, very few are using mobile.
"With Spacebar, all the band needs to stream is an iPhone. We don't see anyone else doing it like this. We are putting the artists first."
Support networks
The infrastructure in place in New York to support tech entrepreneurs has changed dramatically in the past few years.
"There's now venture capitalists, education, workshare facilities - the kind of ecosystem you would expect to see in Silicon Valley," says Eric Hippeau, a managing director at Lerer Ventures, which invests in the earliest stages of a start-up's life.
"I don't think there was any single catalyst [that led to that]. It all started in earnest because you don't really need to be in the middle of Silicon Valley any more to start a company."
Organisations such as NY Tech Meetup (NYTM) provide support to the tech community.
And the "We are Made in NY" initiative was recently launched by the Mayor's Office of Media and Entertainment and NYTM to help promote the city's technology sector, which now includes some 900 companies.
It marked an expansion of the "Made in NY" initiative, which celebrates the local media and entertainment industries, and highlights the growing importance of the tech sector to the city.
"Technology is invading every segment of the economy - commerce, fashion, finance - all of the big industries that are in New York," says Mr Hippeau. "All of these are being completely transformed by technology."
Looking for disruption
That increased use of technology in more mainstream fields is evident in the wide variety of tech start-ups looking to grow in New York.
The businesses showcasing at TechCrunch ranged from fashion app Styloola - which describes itself as "the Foursquare for fashion", to GiveGab - a social network for volunteers, to Enigma - a web service that allows users to search publicly available data, that is often not that accessible),in an easier way.
And it was Enigma who was crowned TechCrunch Disrupt NY's "Startup Battlefield" winner, pocketing a cheque for $50,000 (£32,000).
One thing is for certain - money is not in short supply in the Big Apple. Venture capital deals in New York grew 52% between 2007 and 2012, while the city saw more than $8.3bn in technology company acquisitions last year.
But what is that investors look for? The clue is in the name of the TechCrunch event.
"We look for companies that have the capability to disrupt," says Mr Hippeau. "Disruption in terms of a new way of thinking, or a new way of serving customers using technology."
The tech scene in New York looks set to go from strength to strength. As TechCrunch's Josh Constine puts it: "As high technology becomes a part of everyone's lives I think we'll see a more buttoned down place like New York City fostering a bigger community of start-ups."