Las Vegas Sands gets profit boost from Macau operations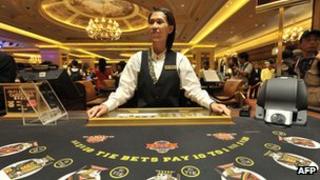 Casino operator Las Vegas Sands has reported a jump in first quarter profit, boosted by a strong performance of its casino operations in Macau.
Its net profit rose to $572m (£368m) in the three months to the end of March, up from $498.9m a year earlier.
The firm said it attracted a record 14 million visitors to its properties in Macau, helping drive up profits.
Macau is the world's biggest gambling market and the only place in China where gambling is legal.
The firm said net profit at Sands China Ltd, the operator of its Macau casinos, rose 63.3% from a year earlier to $452.9m.
Las Vegas Sands was one of the first firms to open a casino in Macau and currently operates four properties in the territory.
"In Macau, we delivered record financial results, with outstanding growth and strong operating momentum reflected in every segment of our business," said Sheldon Adelson, chairman of Las Vegas Sands.
It also reported a jump in both gaming and non-gaming revenues at Marina Bay Sands, its casino in Singapore.