WTO names Roberto Azevedo as new head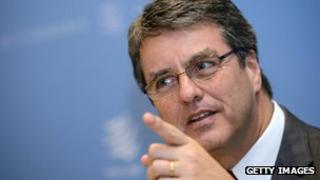 A Brazilian trade diplomat has been named as the next head of the World Trade Organisation (WTO).
Roberto Azevedo will succeed France's Pascal Lamy in September, the Brazilian government says.
Mr Azevedo, Brazil's ambassador to the WTO since 2008, was competing for the post with Mexico's former trade minister Herminio Blanco.
The WTO is expected to formally announce Mr Azevedo as its new director-general on Wednesday.
He will be the first Latin American to head the WTO since its creation in 1995.
The process of choosing a new head has taken six months, with nine hopefuls putting their names forward for the post.
The Brazilian President, Dilma Rousseff, issued a statement congratulating the diplomat.
'Victory for WTO'
"This is not just a victory for Brazil or a group of countries, but for the whole WTO," the communiqué read.
Mr Azevedo will be busy from the very start of his new job. The WTO's biennial meeting of ministers takes place in Bali in Indonesia in December.
The WTO is battling to get agreement in the run-up to the meeting, even though it has scaled back its ambitions to liberalise trade, after the so-called "Doha" round collapsed following ten years of talks.
The aim of the Geneva-based WTO is to facilitate global trade, making the flow of goods and services around the world as free and fair as possible.
The WTO replaced the General Agreement on Tariffs and Trade (GATT) which had been overseeing the rules of commerce since 1948.
The GATT covered trade in goods, while the WTO also deals in the trade of services, inventions and designs.
While trade disputes were heard under the GATT rules, the process is faster under the WTO, even though trade cases can still run for years.