Bank of Korea cuts interest rates to spur economy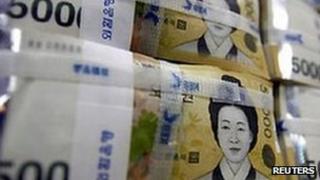 South Korea has cut interest rates in a surprise move aimed at boosting growth and countering the weak Japanese yen.
Its central bank, the Bank of Korea, lowered its benchmark rate from 2.75% to 2.5%, the first cut in seven months.
South Korean exporters are seeing their price competitiveness suffer after the Japanese government's recent aggressive policy stance weakened the yen.
Exports, which account for nearly half of the South Korean economy, have also been hit by weak global demand.
"This rate cut means that the Bank of Korea admits that the economy is not as good as they think," said Jun Min-kyoo, of Korean Investment and Securities.
"Slow economic growth and sluggish exports are critical for the rate decision."
Currency wars?
In recent months, Japanese Prime Minister Shinzo Abe has led a policy shift to far more aggressive moves aimed at ending more than a decade of stagnating growth.
The Bank of Japan has unveiled measures to try to stoke inflation and spur a fresh wave of economic growth in the country.
Theses measures, which include doubling the country's money supply, have resulted in a sharp decline in the yen's value.
The yen has dipped nearly 20% against the US dollar since last November, making Japanese goods more affordable to foreign buyers.
Meanwhile, the South Korean won has risen more than 8% against the US dollar over the past 12 months. It has also strengthened more than 20% against the Japanese currency in the past seven months.
That has given Japanese companies an edge in overseas markets, making their products more competitive.
Analysts said the latest move by the Korean central bank was triggered in part by the currency movements.
"I see today's rate cut as a defence against the rising won," said Kim Jong-su, an economist with NH Investment & Securities.
"You could say that the Bank of Korea has jumped in to participate in the currency wars."
The South Korean government has already cut its growth forecast for 2013 to 2.3%, down from a previous estimate of 3%. It cited weak exports and slow domestic consumption as the main factors.
This week, parliament approved a plan to boost stimulus spending by $15.3bn (£9.2bn).
Central banks in Europe, India and Australia have taken similar steps in recent month, lowering borrowing costs to spur lending as the outlook for the global economy remains uncertain.