GlaxoSmithKline launches Africa charity partnership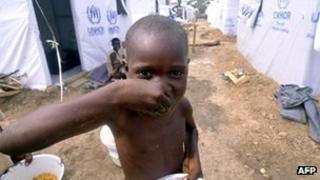 Britain's biggest drug manufacturer has launched a new partnership with Save the Children to develop medicines to tackle child mortality in Africa.
GlaxoSmithKline and the charity said together they could save a million children's lives.
Save the Children chief executive Justin Forsyth said there was the potential for "huge gains".
The charity admitted that its alliance with GlaxoSmithKline would be controversial.
However, it said, the benefits would be massive.
For example, a formula for mouthwash will be turned into a gel that can be applied to the umbilical cords of babies to stop infection.
The new medicines will be sold at cost price.
'Key role'
GlaxoSmithKline (GSK) said the partnership would set a new standard for how companies and charities could work together.
Sir Andrew Witty, chief executive of GSK, told BBC Radio 4's Today programme: "Save have a key role because for the first time we're involving a voice from an NGO [non-governmental organisation] in our research and development agenda setting for our paediatric development programmes focused on the developing world."
He said GSK expected to give around £15 million to Save the Children "over the next several years".
He added: "A partnership of this scale gives us an opportunity to do something amazing."
Initially, two flagship programmes will operate in DR Congo and Kenya.
These will be followed by other initiatives in Sub-Saharan Africa, Asia and Latin America.
'Harness power'
Mr Forsyth said: "This ground breaking partnership involves both organisations working in genuinely new ways to save the lives of a million children."
GSK plans to identify the largest causes of child death and look at simple, effective interventions, that can be delivered on the ground by Save the Children, Sir Andrew said.
Mr Forsyth admitted in the past Save the Children "may not have embarked on a collaboration with a pharmaceutical company like GSK".
He said he used to campaign against GSK when "they kept the prices very high for Aids drugs".
But, he said, GSK had changed and was now at the forefront in terms of access to medicine and investment in malaria vaccines.
Sir Andrew said the company was not looking to make a profit.
He said: "Remember we've been working since 1984 on hopefully the world's first malaria vaccine, we've committed also that we will commercialise that at cost with only a 5% margin which we've promised to reinvest back into malaria research.
"So we've made very clear that we are not looking to make a return from the source of these activities, we are equally not looking to make a loss - we need it to be sustainable."
'Paid rivals'
The news follows a number recent cases involving the pharmaceutical giant.
Last month, GSK was accused of market "abuse" by the consumer watchdog, the Office of Fair Trading (OFT).
The OFT alleged that the pharmaceutical giant paid rivals to delay the release their own versions of GSK's Seroxat treatment.
Sir Andrew said: "These matters have been the subject of investigation by the European Commission twice and on both occasions they closed those investigations without any further action."
In 2012, GSK was fined £1.9 bn by American health authorities, the largest healthcare fraud settlement in US history.
The drug giant admitted promoting two antidepressant drugs for unapproved uses, including treatment of children and adolescents. The illegal practice is known as off-label marketing.
GSK also conceded charges that it had failed to report safety data about its diabetes drug Avandia to the Food and Drug Administration (FDA).