Turkey's exporters hit by eurozone slump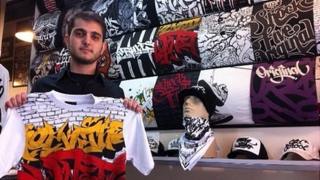 Turkish exporters have seen trade with eurozone countries slump since the start of the financial crisis. Now, in order to survive, they are targeting new customers in the Middle East, North Africa and right around the globe.
In the trendy Kadikoy district on Istanbul's Asian shore, store owner Kurtulus Birgoren is facing big losses on his export business. His firm, Pislick, designs and manufactures its own brand of urban streetwear, selling to fashion-conscious youngsters across the eurozone.
Until 2008, sales of its caps, T-shirts and trainers to shops in Scandinavia, Spain and Germany accounted for 45% of the firm's turnover. Now, Mr Birgoren says, it is only 25% and orders are still falling.
"We are trying to develop new stuff for European customers. We will change our production costs, we will try our best to make it up again," he says. However, Pislick is now pinning its hopes on a new franchise in Japan, where the firm can profit on the relative weakness of the yen.
"Their economy is very good. If we change our prices to Japanese money, it will be very cheap for Japanese customers. If we can have time, we will go there and find some partners in Japan," he explains.
Across the city, Oguzhan Tarakcioglu surveys the bays of empty haulage trucks at logistics firm Me-Tol International.
Mr Tarakcioglu's firm runs a fleet of 100 lorries, transporting Turkish goods to customers as far afield as Finland and the Baltic states. The past few years have seen orders to its traditional core markets in Germany and the Netherlands drain away.
"Services are smaller," he says. "Everybody is trying to decrease their prices. Oil prices are higher and road taxes are higher - and there are fewer loads too. So it looks like [we are] wasting time.
"We used to give customers 30 to 40 days' payment terms, but now it is up to three or four months to get paid. And sometimes we don't even get the money," he says.
Like many Turkish firms at the sharp end of the export industry, Me-Tol International Logistics is now refocusing on new destinations.
So what is Mr Tarakcioglu's most profitable market now? "We can say it is Belarus," he replies. "It is a non-eurozone country. It is quite stable for us."
Contagion spreads
Until recently, Turkey had emerged as one of the strongest survivors of the global financial meltdown. Now the problems in the eurozone are being felt here, too.
In 2011, GDP rose to more than 8%, but by last year, that breakneck growth had slowed to just over 2%. In April, blaming what it called "ongoing uncertainties regarding the global economy", the Turkish Central Bank surprised analysts by cutting interest rates by 50 basis points (half of one percentage point).
Nilufer Sezgin, chief economist at Turkey's Erste Securities, says another rate cut is almost certain.
"We expect another 25 basis points in May," she told Business Daily. "In the current global growth environment, although Turkey manages to diversify its exports towards other regions like the Middle East and North Africa from Europe for instance, the [outlook] is still weak."
Meanwhile, at Me-Tol International, Oguzhan Tarakcioglu is concentrating on what he believes will be Turkey's next biggest export market.
"It is Africa," he says firmly. "North Africa, South Africa, everywhere in the African continent.
"You get paid in cash, you get your money when you deliver the goods, there is no problem with the payments, no delay. But in the eurozone we built our business on a trust base and now it is very hard to trust anyone in the eurozone."