Bloomberg criticised by Bank of England over data monitoring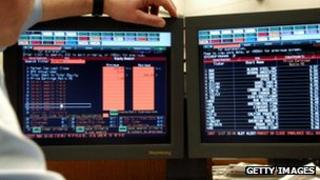 The Bank of England has called the data snooping activities at financial news agency Bloomberg "reprehensible".
The Bank said it would liaise with other central banks "on this matter".
The firm came under fire after it was disclosed that Goldman Sachs had complained about journalists trying to glean information from the data.
Bloomberg said: "We regret the Bank has taken this position but we'll continue to engage with its management and staff to address their concerns."
On Monday Bloomberg said it was an "inexcusable" error to allow its reporters to monitor the activities of clients on its terminals.
The US Federal Reserve is looking into whether activity on Bloomberg terminals by its chairman, Ben Bernanke, was also tracked.
Now the BoE has raised concerns, with a spokesperson saying: "The protection of confidential information is vital here at the Bank. What seems to have happened at Bloomberg is reprehensible.
"Bank officials are in close contact with Bloomberg, who have provided assurances to ensure that this does not happen again. We will also be liaising with other central banks on this matter."
'Unprecedented'
The BBC's economics correspondent Hugh Pym said the Bank's language was unusually strong, underlining its concerns.
He said: "To describe a company's conduct as 'reprehensible' is almost certainly unprecedented. The Bank clearly feels there was a possibility that confidentiality was breached - an appalling thought for a central bank. It says it has received assurances there will be no repeat.
"But the fact the Bank has made clear its displeasure and been in contact with other central banks shows how seriously the Bloomberg data issue is being taken at the highest levels."
Central banks around the world have said they are investigating any possible breaches of confidentiality in the way that Bloomberg gave reporters access to data.
The European Central Bank (ECB) said it had also been in touch with Bloomberg.
"The ECB takes the protection of confidentiality in the usage of data products by ECB management and staff very seriously," an ECB spokesman told Reuters.
Japan's central bank, the Hong Kong Monetary Authority - which is effectively the territory's central bank - and Brazil's central bank have contacted Bloomberg over the issue.
Leaked messages
The Bank of England's criticism is the latest setback for Bloomberg, which on Monday was hit by the revelation that thousands of private messages between traders at large banks and their customers, sent over Bloomberg terminals in 2009 and 2010, had been visible online.
The Financial Times, which first reported the story, said that the messages contained confidential financial price information and trading activity. The FT said they were later removed from the site.
"This work was done with client consent, where emails were explicitly forwarded to us to a dedicated email account, and released by the person responsible for the email so that we could conduct internal testing to improve our technology for the client," Bloomberg told the BBC.
Bloomberg has tried to reassure its clients over widespread concerns over whom it allowed to access sensitive data on how clients used their Bloomberg terminals.
On Monday, Matthew Winkler, editor-in-chief of Bloomberg News, insisted Bloomberg journalists had "limited" access to sensitive data and that important customer data had always been protected.