Turkish bond yields reach record lows on credit rating upgrade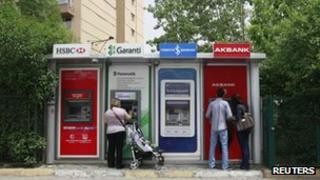 Turkish bond yields have hit new lows as investors greeted Moody's increase in the country's credit rating to investment grade.
The rating upgrade to Baa3 - although well below top-notch Aaa - makes the country's bonds eligible to a greater number of investment funds.
Strong demand from investors on Friday sent Turkey's two-year benchmark bond yield to a record low of 4.61%.
Investors accept lower levels of return on bonds they see as less risky.
Turkey's economy has been one of the world's fastest growing emerging markets, with growth rates of close to 9% until it slowed sharply last year.
It also has one of the world's biggest wealth gaps.
Prime Minister Tayyip Erdogan's pro-market AK Party has presided over a series of reforms since it took power in 2002.
Attractive
But there are problems associated with economic growth and Mr Erdogan, who is visiting Washington, is concerned that investor enthusiasm is attracting money into the country too quickly, and is artificially boosting the value of the Turkish lira.
That makes imports - particularly from countries in the neighbouring eurozone - cheaper and has contributed to a gaping current account deficit.
Conversely, a high lira makes Turkey's exports, which include both agricultural products as well as manufactured goods, more expensive to other countries.
In an effort to reduce the flow of money into Turkey, and to reboot its economic growth, its central bank on Thursday cut its key interest rate by half a percentage point to 4.5%.
Moody's was the latest ratings agency to vet Turkey's credit worthiness.
Last November Fitch Ratings raised the country to investment-grade, although rival Standard & Poor's rates Turkey one notch below.
The country's economy minister, Zafer Caglayan, hailed the move as overdue.
"Turkey long deserved this rating, or an even higher one, both economically and politically," he said.
"I see this as a delayed recognition of what we deserved."
Moody's highlighted a range of changes that had lead to it applying a higher credit rating to Turkey, including new incentives to increase investment in personal pensions, a drive to boost energy efficiency to cut its reliance on energy imports.