Jockey Club hits bond target and extends deadline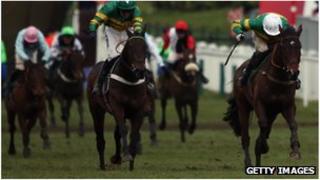 The Jockey Club has hit its £15m target for its Racecourse Bond in just over three weeks, and has extended the application period for another 10 days.
The bond offered the general public the chance to invest in horseracing.
Punters were invited to invest between £2,000 and £100,000 in the bond, which will pay a return of 7.75% through a mixture of cash and reward points.
The initial aim was to raise at least £15m for the development of its flagship Cheltenham Racecourse.
It was the first time such a bond had been offered in British sport, and Capita Registrars has confirmed the milestone was hit a day before the application window was due to close.
The Jockey Club said that "as a result of continued demand and a series of requests from potential investors", it was extending the application window for the bond until Tuesday, 28 May
Interest payments on the bond will be split.
Investors will get 4.75% in cash and a further 3% in the form of Rewards4Racing points which can be used to get discount tickets, hospitality packages and racecards at the Jockey Club's racecourses.
"We're absolutely delighted to have beaten our target for The Jockey Club Racecourse Bond, which has raised highly-efficient funds for us to invest back into Britain's second biggest sport through the iconic development we're planning at Cheltenham Racecourse," said Paul Fisher, group managing director of Jockey Club Racecourses.