Ryanair profits at record high despite fuel cost rise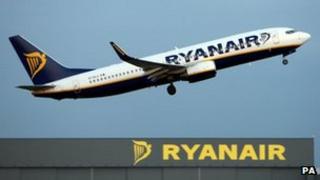 Discount airline Ryanair has reported record full-year profits and rising revenues, despite soaring fuel costs.
Profits after tax rose 13% to 569m euros (£481m) on revenues of 4.88bn euros for the year to 31 March.
Passenger traffic grew 5% to 79.3 million as the airline added 217 new routes to its roster, bringing the total to 1,600.
But fuel costs rose by more than 290m euros, the company said, and now account for 45% of total costs.
Chief executive Michael O'Leary said: "Delivering a 13% increase in profits and 5% traffic growth despite high oil prices during a European recession is testimony to the strength of Ryanair's ultra-low cost model."
But he warned that growth would be slower in the 2013-14 financial year at Europe's largest budget airline, thanks to rising oil prices and "unjustified higher Eurocontrol and Spanish airport charges".
The company is forecasting net profits in the range of 570m to 600m euros for the coming year.
In March, Ryanair placed an order with Boeing for 175 planes worth £10.3bn ($15.6bn) to be delivered between 2014 and 2018.
The deal will increase its fleet by a third to 400 planes.
But in February, Ryanair's expansion plans were dealt a blow when the European Commission blocked its third attempt to take over rival Aer Lingus, in which Ryanair already has a 30% stake.
Mr O'Leary, who is known for his outspokenness, dismissed the decision as "bizarre", saying it was "yet another politically motivated decision by Europe's competition authority".
The Commission fears a takeover would reduce competition to the detriment of consumers.