Cement companies warned over lack of competition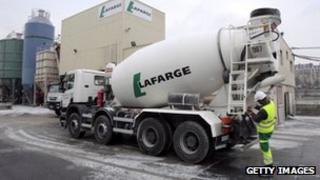 Lack of competition in the UK cement industry has cost consumers millions of pounds, according to the Competition Commission.
It said the big firms had focused on maintaining market share rather than competing with each other.
The market is dominated by three firms: Lafarge Tarmac, Cemex, and Hanson.
The commission has warned that the companies may be forced to sell parts of their businesses to give consumers more bargaining power.
"The established producers know too much about each other's businesses and have concentrated on retaining their respective market shares, rather than competing to the full," said the Competition Commission's deputy chairman, Martin Cave.
Mr Cave said that the report's findings did not mean that the companies were explicitly operating a cartel, but that the lack of competition between the companies had cost customers up to £180m between 2007 and 2011.
A Lafarge spokesman said: 'We strongly disagree with the Commission's provisional findings and proposed remedies and will be making strong representations to the Commission during the next phase of the process".
HeidelbergCement, the owner of Hanson, said that it was co-operating fully with the Competition Commission, but would not comment on the findings before they were published in full, in January 2014.
Cemex has described the possible remedies, including forced disposal of plants or a reduction in production capacity as "disproportionate".