Lloyds and RBS confident on capital requirements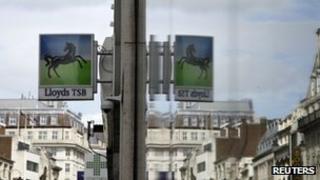 Lloyds Banking Group and Royal Bank of Scotland have said they will not have to ask investors for more money.
The banks said that any additional capital requirements - needed to help cushion them against future financial shocks - can be met through their current plans.
The comments follow consultations with the Prudential Regulation Authority.
In March, the Bank of England said UK banks needed to raise cash reserves by £25bn over the next year.
Lloyds said it will be able to meet requirements to hold more cash without issuing new shares or securities.
RBS also said it would be able to raise cash through its current business plan.
The capital requirements are designed to protect banks against possible future shocks to the banking system, and prevent them running out of money in the event of another credit crunch.
But the Prudential Regulation Authority (PRA), which is working with banks to improve their capital positions, said it was comfortable with both Lloyds and RBS's current plans.
The PRA, which is part of the Bank of England, said it was continuing discussions with other banks, including possible measures they may need to take to raise more cash.
In a statement, Lloyds said it would be able to raise the additional capital it needed this year from its core business and by selling non-core assets.
"We continue to be confident in our capital position," the bank said.
RBS chief executive Stephen Hester said: "Our balance sheet has been transformed and our core business has plentiful surplus funding to support continued growth in lending."