US Fed's Ben Bernanke hails benefits of stimulus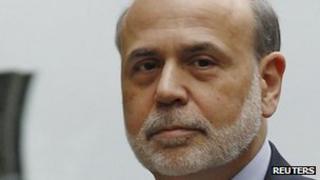 US Federal Reserve chairman Ben Bernanke has told Congress that it is too soon to end the central bank's monetary stimulus programme or raise interest rates.
He said the Fed's policies were "providing significant benefits" and changing course now could harm growth.
He warned that a "premature tightening of monetary policy" would risk "slowing or ending the economic recovery".
US rates have been between 0% and 0.25% since December 2008.
However, later on Wednesday the minutes of the Fed's last meeting were released, highlighting divisions on the policy-setting Federal Open Market Committee over when the Fed should start to wind down its $85bn-a-month asset purchasing programme.
"A number of participants expressed willingness to adjust the flow of purchases downward as early as the June meeting if the economic information received by that time showed evidence of sufficiently strong and sustained growth," the minutes said.
"However, views differed about what evidence would be necessary and the likelihood of that outcome.
"One participant preferred to begin decreasing the rate of purchases immediately, while another participant preferred to add more monetary accommodation at the current meeting and mentioned that the Committee had several other tools it could potentially use to do so."
Deflation risk
US stocks turned negative after the minutes were released, with the Dow Jones down 25.84 points at 15,361.74.
Shares have been hitting record levels in recent weeks, held up by the prospect that monetary policy would remain generous to help strengthen the weak economy.
At the same time, the Fed's willingness to continue its support underlines the weakness of the US economy and is causing some investors to fear company profits may be held back by tepid growth.
Ian Shepherdson, chief economist at Pantheon Macroeconomic Advisors, said the minutes had been "largely superseded" by Mr Bernanke's testimony "but they do reinforce the idea that the doves - who are the ones making policy - will need a great deal of persuading to change their stance".
The Fed has pledged to keep US interest rates at their record low level until the US unemployment rate falls below 6.5%.
In his latest testimony to the Joint Economic Committee, Mr Bernanke noted that unemployment had now fallen to a four-year low of 7.5%, but the job market was still weak.
He added that inflation was running below the Fed's long-term target of 2% and said current monetary policy was helping to counter "incipient deflationary pressures".
The Fed's purchases of US government securities had "kept inflation from falling even further", he said.
The Federal Reserve buys bonds as a way of increasing the money supply and improving liquidity in the financial system, in the hope of sparking economic growth and supporting employment.