Manchester City in multi-million pound Nike kit deal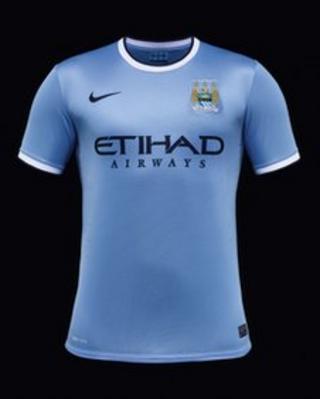 Manchester City has unveiled its new kit after signing a deal with US sportswear giant Nike reported to be worth £72m ($109m) over six years.
The club had previously announced it would switch brand from Umbro.
The kit was launched in New York, where the club is on a post-season tour.
It comes a day after City said it had acquired the rights to Major League Soccer's (MLS) 20th expansion franchise from 2015 in a partnership with the New York Yankees baseball club.
New York City Football Club will enter the MLS after a deal thought to be worth $100m (£66m) was struck. It will play in a temporary home until a new stadium is built.
Friendly games
The new income from the Nike deal will help boost Manchester City's commercial revenues as UEFA's Financial Fair Play rules come into effect.
Tom Glick, City's chief commercial and operating officer, said Nike's extensive distribution networks would "ensure the club's presence in markets stretching from Africa, Europe, Asia and the Americas".
They will wear their new kit in matches against Chelsea in St Louis and New York on Thursday and Saturday respectively.