Oklahoma tornado: Insurance bill 'could top $2bn'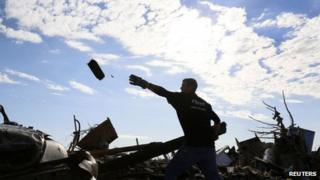 The damage from the Oklahoma tornado could reach $2bn (£1.3bn), the Oklahoma Insurance Department warns, although many renters may have no insurance cover.
Oklahoma Insurance Commissioner John Doak said the damage could be worse than that caused by the tornado in Joplin, Missouri, in 2011.
That event killed 161 people and led to at least $2bn in insured losses.
In Oklahoma, 2,705 claims have been filed so far but are likely to rise.
The tornado in Moore, Oklahoma was 17 miles (27km) long and 1.3 miles wide and has left at least 24 people dead.
John Wiscaver, vice president of public affairs for Oklahoma Farm Bureau Insurance, said "the impact of this event from a property damage standpoint would be similar to Joplin", adding that the two tornadoes were "very comparable in scope".
There are also concerns that many tenants, particularly those living in apartment complexes, may not have insurance policies.
Although 98% of US homeowners have home insurance, only about 70% of those who rent have insurance.
"There is far too large a percentage nationally in the US of people who rent but do not get renters insurance," Mr Wiscaver told the BBC.
Many are under the misunderstanding that they are covered by their landlords or apartment complexes, he said.
'Long haul'
Loretta Worters, a vice president at the Insurance Information Institute (III), warned that some small businesses may not have insurance either.
"We found after 9/11 that was the case with a lot of small businesses," she said.
"With the economy [at the moment] a lot of companies look to reinvest with the business rather than purchase the insurance."
She said the rebuilding efforts after a disaster depended on the level of devastation, but it would be a "long haul".
"To totally rebuild a community, probably you're talking two years.
"You've got to get your claims adjustors in there, you've got to get rid of all the debris, grading the area, think about how you're going to rebuild again, are you going to rebuild with a basement?"
She added that the process could be slowed down because of a shortage of supplies and builders in the aftermath of a tornado, but typically what happens is an area will be rebuilt better and stronger.
The III says that the US is in the midst of "the most expensive period in recorded history for thunderstorm events, which include damage from tornadoes".
Over the past five years, insurers paid some $75bn to victims of these events.