JP Morgan fined £3m for advice failings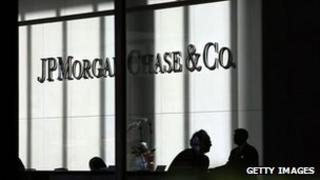 JP Morgan's international bank division has been fined £3m by the Financial Conduct Authority (FCA).
The fine is for failures in the way it advised some of its wealthiest clients and maintained records in a two year period up to February 2012.
The FCA said that no customers had lost out financially, but there was a risk that they might have been given the wrong advice about investments.
JP Morgan said it had now changed its procedures.
The FCA found that:
client files were not kept up to date
computer systems did not have sufficient capacity
client reports failed to explain what investments might be suitable
suitability profiles were not always sent to the client
In addition, the FCA said that the management of JP Morgan International Bank did not have sufficient information or oversight to address these deficiencies.
"No matter who they are, customers of wealth managers should be able to expect the firm to keep complete, up to date client records so that they can give the right advice," said Tracey McDermott of the FCA.
"In this case the firm did not have complete records, nor did its management have the information they needed to recognise this," she said.
A spokesperson for JP Morgan said:
"We have fully co-operated with the FCA and have enhanced our procedures to ensure that they are compliant with regulatory requirements. As the FCA has noted in its press release, there has been no detriment to customers identified to date."
Last year, the previous regulator, the Financial Service Authority, fined Savoy Asset Management £412,000 for failing to ensure the suitability of advice it was giving to clients.