Little Chef brand in danger, owners warn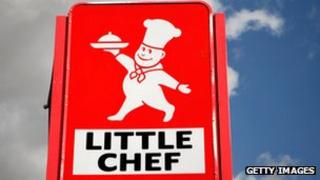 The Little Chef restaurant chain may be about to disappear from the UK's roadsides, its owners have warned.
Turnaround specialists RCapital put the company up for sale in April.
But the firm said the majority of bids have since come from large fast-food chains intent on scrapping the brand. Bidders are believed to include McDonald's, KFC and Costa Coffee.
Little Chef went into administration in 2007, and underwent significant restructuring.
That included cutting the number of outlets from 234 to 83 and reducing staff number from 4,000 to 1,100.
'Next stage'
RCapital says the business is now profitable, but it suggested that bidders are uninterested in retaining the brand.
"The aim of the sale was to find a buyer that would take the business... on to the next stage. However the market is changing and fast food and coffee houses are growing in popularity," the company said in a statement.
"It is not a surprise that the majority of the offers for Little Chef are from companies that may want to re-brand the estate.
"Rcapital has a deep affection for the Little Chef brand and it is hoped that some Little Chefs will remain on Britain's A roads even if some sites are re-branded."
Analysts suggest the locations of outlets and large car-parks are the most attractive aspects of the real estate for potential buyers.
If the company name was to disappear, it would mark the end of more than 50 years of trading in the UK, which began with an 11-seat restaurant in Reading in 1958.