Co-operative Bank appoints new boss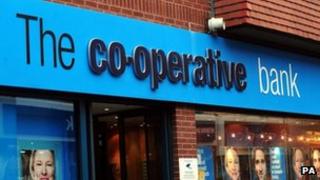 Troubled lender Co-operative Bank has appointed a former HSBC banker as its new chief executive.
Niall Booker, the former head of HSBC's North American operations, will take over at Co-op as it faces questions over its capital position.
His predecessor, Barry Tootell, resigned earlier this month after Moody's, a rating agency, downgraded Co-op's debt to "junk" status.
The bank is currently in talks with regulators about its capital position.
There is concern that it is among the UK banks that need to raise a total of £25bn between them to strengthen capital positions and protect the banking system against future crises.
Earlier this week, it halted new business lending amid concerns it needed to preserve capital.
Welcoming the appointment, Euan Sutherland, the chief executive of the overall Co-operative Group, said the bank had "a strong future".
"The board and I are confident that Niall will add tremendous value, helping us work through the complex issues that we currently face as we work to reposition our bank," he said.
Mr Booker said the Co-op bank was currently going through a "strategically important time".
"I will be focused on the actions to strengthen our balance sheet and satisfactorily resolve our underlying issues, while at the same time continuing to serve our existing customers and build on the Co-operative Bank's exceptional brand strength.
"There are no quick fixes here, but with the support of the Co-operative Group, our staff and our loyal customer base, I am confident we will be able to stabilise and develop the franchise."