Half of EU members 'oppose China solar tariffs'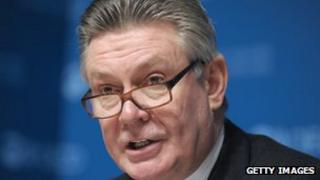 The UK and Germany are among at least 14 European Union members opposed to punitive tariffs on Chinese solar panel imports, according to diplomats.
The revelation, made on Monday, shows a split among the EU bloc's 27 members.
The European Commission - the EU's executive arm - argues that Chinese firms are unfairly undercutting rivals.
It claimed China was pressuring members to oppose the duties, a day after German Chancellor Angela Merkel hinted in favour of a negotiated agreement.
EU Trade Commissioner Karel De Gucht said such pressure was a "waste of time" on the part of the Chinese authorities.
"They [the Chinese] are not going to impress me by putting pressure on member states," he told the European Parliament's trade committee.
France and Italy are among those in favour of the duties, while Germany, the UK and the Netherlands are in the opposite camp, according to Reuters, citing diplomats.
One source, who asked not to be named, told the AFP agency that 17 member states "have come out in opposition".
"In view of this considerable opposition, it is clear that the European Commission must step up efforts to find a negotiated solution," the person said.
'Chinese pressure'
Following high-level talks on Sunday between the German leader and Chinese Premier Li Keqiang, Mr De Gucht met China's vice-minister of commerce Zhong Shan for informal talks on Monday.
Mr De Gucht is proposing levies averaging 47% on the panels, arguing they are being sold below cost and therefore damaging competition.
The provisional duties are expected to take effect from 6 June for a period of time until December during which they could be blocked if both sides reach a negotiated settlement.
The anti-dumping case is the biggest ever undertaken by the Commission, and affects 21bn euros ($27bn; £18bn) worth of Chinese-made solar panels sold in the EU.
The Commission said China was pressuring some EU countries to oppose the tariffs.
"Commissioner De Gucht ... made it very clear to the Vice-Minister that he was aware of the pressure being exerted by China on a number of EU member states, which explains why they are positioning themselves as they are in their advisory positions towards the European Commission," the Commission said in a statement.
German Economy Minister Philipp Roesler on Monday said after a meeting with Mr Li: "There is no need for more sanction measures."
'Balanced relationship'
Germany's latest position is an about-face from its initial support for Mr De Gucht's proposed duties, as it was a German company, Solar World, which first raised the complaint against China.
On Sunday, Mrs Merkel said she wanted to reach an agreement with China over import tariffs in order to avoid triggering a damaging trade war.
She said that Germany would work for the issues to be resolved as quickly as possible because she did not believe that tariffs would help either side.
And Mr Li has warned that any attempt to impose tariffs would be seen as protectionist and ultimately hurt consumers.
On Monday, French Industry Minister Arnaud Montebourg said: "We want to see a balanced relationship between China and the European Union.
"Countries that use protectionism, and China is one of them, should accept reciprocal rules," he told reporters.
Separately, the EU is also investigating subsidies provided to China's telecoms sector.
Paul Barwell, chief executive of the UK Solar Trade Association, told the BBC that politics was playing a big role in the whole issue.
"What's going on here is that solar is being used as a pawn in this whole political process and the precedent that is set here is likely to be followed through with other anti-dumping cases," he said.