US house prices 'in biggest rise for nearly seven years'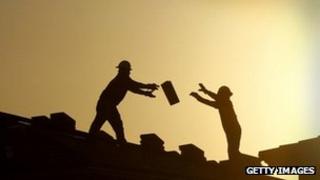 US house prices in March were up 10.9% from a year earlier, the biggest rise in nearly seven years, according to a closely-watched survey.
The S&P/Case-Shiller index also said all 20 US cities measured posted annual gains for the third straight month.
Meanwhile, separate data showed US consumer confidence in May rose to its highest level in more than five years.
The two reports boosted investor sentiment, with the Dow Jones closing up 0.7% at 15,409, another record.
Housing recovery
The Case-Shiller house price data will help raise hopes that the property market is starting to recover after a deep recession, helped by solid employment gains and near-record low mortgage rates.
However, the report said some of the price rises may have been driven by the limited supply of homes coming onto the market.
For the first quarter of this year, the seasonally adjusted national index rose 3.9%, stronger than the 2.4% gain that was seen in the final quarter of last year.
Annual prices rose in Phoenix by 22.5%, the biggest gain among the 20 cities. It was followed by San Francisco (22.2%) and Las Vegas (20.6%).
New York City had the smallest annual increase at 2.6%, followed by Cleveland at 4.8%.
Separate housing data has shown sales of new homes in April rose to nearly a five-year high. And sales of previously-occupied homes in April increased to the highest level in three and a half years.
'Encouraging'
The Conference Board said its index of consumer attitudes rose to 76.2 in May from an upwardly revised 69 in April.
That was its highest level since February 2008 and beat economists' forecasts for a reading of 71.
The two main components of the survey increased, with the present situation index up to 66.7 from 61, and the expectations index rising to 82.4 from 74.3.
Millan Mulraine, director of US research and strategy at TD Securities, said the positive tone of the report was "quite encouraging".
"It suggests that US households are looking well beyond the current economic setback caused by fiscal retrenchment in the form of higher personal taxes and falling government spending.
"Instead, confidence is being buoyed by the steady progress in housing market activity and strengthening private sector fundamentals more generally," he said.