Failure drives Rocky entrepreneurs to US success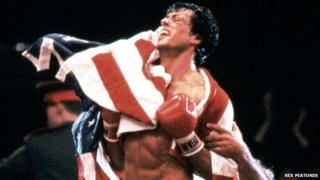 Ever since European settlers arrived searching for new opportunities, North America has embodied a culture of independence and willingness to take risks.
For modern-day entrepreneurs in the US, that means embracing failure as a rite of passage on the way to success. Many investors in America even favour companies or individuals who have come back from defeat.
"Our track record of failure has never been a hindrance. It's helped us to build up an experience base," says Randal Pinkett, founder and chief executive of the New Jersey-based BCT Partners, a consultancy firm expected to make $10 million this year.
"The question is not whether you have failed and fallen down, but whether you're willing to get yourself back up," he says.
Quick results
BCT, which advises on community building programmes, is his fifth business and a far cry from his first venture - selling CDs from his dormitory while still a student. When that failed he launched a corporate training company, but that also failed, as did his third, and his fourth enterprises.
Since then he has won numerous national awards for his business achievements and written books on the subject. He was also the 2005 winner of the reality TV show, The Apprentice, in which property tycoon Donald Trump judges contestants on their ability to manage a business project.
Mr Pinkett says the speed of change in the US inevitably leads to business failures. But it can also bring about quick results.
"The faster you fail, the faster you'll get to success," he says. "The culture of the US is almost predicated on innovating and experimenting as a way to fail and to get to success."
'Tested by fire'
That attitude is quintessentially American, says Casey Willson, a business counsellor at the University of Maryland Small Business and Technology Development Center.
"When an investor is looking for an opportunity, if [the entrepreneur] has been tested by fire, you might say they become a better risk, because the people who fail and keep on pushing invariably have learned from their past failures."
He says even Hollywood celebrates those sentiments with films such as Breaking Away, about a young man who perseveres to become a cycling champion, and the Rocky boxing film franchise.
Sylvester Stallone, as the hero in the last instalment of the series, Rocky Balboa, declares: "It ain't about how hard you hit. It's about how hard you can get hit and keep moving forward; how much you can take and keep moving forward. That's how winning is done."
Mr Wilson draws on his own experience of failure when advising others. His first venture, a shoe store franchise, ran into trouble when the manufacturer went out of business.
"The upshot was we had no product, seven leases and lots of debt. But it led me down the road to other small businesses, and it becomes a way of life.
"You become used to being creative, controlling your own business, making your own decisions and responding to customer and market needs."
'Ripped to shreds'
But sometimes businesses fail because of external circumstances that cannot be controlled.
Shelley Pumphrey owns Financial Concierge Services in Maryland, a successful company that helps people organise their finances. She has developed her expertise over two decades working for corporations and running her own businesses.
Her first was aimed at helping small businesses organise pools to obtain discounted group insurance rates.
"That worked really well until the insurance laws changed in Maryland," she says. "Suddenly my business model was ripped to shreds."
In 2008, when the US housing market collapsed, she began another enterprise buying foreclosed homes, doing them up and reselling them for a profit. That was working well but she was forced to abandon the businesses when her personal life changed and she needed to spend more time with her family.
"In both of those instances I knew how to do business plans and I knew what I was targeting. But in both cases it was just unanticipated events that liquidated the companies."
'Determination makes the difference'
The lesson she learned was the importance of budgeting for bad times and a better understanding of the cyclical nature businesses. But her biggest asset was her character.
"There's no question that you wake up some days and just think, 'Wow. This isn't going as well as it was six months ago, or as well as I hoped at this point in my business plan.'
"It's really determination that makes the difference between someone who folds their hands and goes to work for somebody else, or just keeps in there and becomes a success."
For Jean Card, of the National Federation of Independent Businesses, starting a business is one of the biggest tests of an individual.
"The promise of potential reward means that people keep doing it. It's considered they were brave for trying because creating a business is something inherently that people in this country admire. It's a cultural phenomenon," she says.