UK economy: Can it cope with another shock?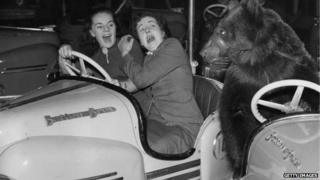 How robust is the British economy? Could it withstand another shock? Where better to ask that question than outside the Ghost Train at Adventure Island Fun Park at the foot of the celebrated mile-long pier at Southend?
It is chilly and wet, but it is the half-term holiday. So Matt Fielder, from up the coast at Frinton-on-Sea, is at the Essex resort with his family and friends.
But if it had not been for the discount vouchers, there is a chance he would not have come.
"We are a family of five with three children, so with the cost of living going up we have been noticing the household bills going up every week.
"So we have come down here using vouchers to try and save as much money as we can but also making sure that the children have fun and have days out."
'Taken a battering'
That seems to be pretty typical of many British families' experience these days and helps to explain why for Philip Miller, proprietor and chief executive of Adventure Island, this has been the worst economic downturn he has experienced in almost 40 years of owning the theme park.
Mr Miller runs the park as well as several other businesses in Southend, and things are still tough.
"The recession has really hurt this kind of business no end. There are far fewer coastal success stories - or even survival stories - now than there was a few years ago. It has been a battle for lots and lots of people.
"In Southend, typical seaside businesses have taken a big battering, and some have gone."
To survive, Mr Miller has had to cut staff numbers by a fifth and offer those still in work fewer hours.
"We have had to become leaner, meaner and keener," he explains.
"It has been raining today so we had to send half the staff home. Once upon a time we used to let them stay.
"We used to be open most of the year and now we are just open part of the year because we can't afford to open in those winter weekends or off-peak times. It is just too expensive to run this place."
No cushion
It is an all too familiar tale at the moment because, unlike past recessions, the British economy has not bounced back.
Previously, five years after the initial shock, the British economy would have been back to its normal level of growth, maybe even managing to expand at above 3% a year.
But things are different this time. That means there is just not the cushion necessary to absorb another economic shock, says Dame DeAnne Julius, a former member of the Bank of England's Monetary Policy Committee.
"If we are only growing at a rate of 1% to 1.5% - maybe 2% if we are lucky next year - you are not very far from declining," she says.
"If you are growing at 6%, as China and other countries are, you can take a little bit of a hit and you are still growing. But we do not have a lot of scope."
A shock could come from almost anywhere: a country leaving the eurozone, a crisis between China and Japan, or even a widening of the conflict in Syria to the oil-producing countries of the Middle East.
Even another banking crisis is quite possible, and that does not even take into account that the economy is still being propped up by the Bank of England's policy of quantatative easing (QE).
As Nick Crafts, professor of economic history at Warwick University points out, that policy of injecting vast amounts of new money into the economy cannot go on for ever.
"There are some difficulties to be navigated, including in particular the ending of QE... that will have to come some time in the future.
"That will be a point at which there will be a danger of slowdown. In the 1930s, the very strong recovery was cut off by a tightening of policy in 1937."
Pester power
And if there were to be another economic crisis, what could the government do about it?
The normal reaction to an economic shock is for the government to try to use its economic and monetary clout to offset it, just like it is trying to do at the moment.
But as Dame DeAnne points out, that will not be so easy next time.
"All of the policy tools have been maxed out; interest rates are already close to zero.
"The budget deficit is coming down but is still very high. So there is not a lot of scope for the policymakers to offset any new shock which may hit us," she adds.
But there is one thing that might help, although it is unlikely to save the whole economy.
For Mr Miller at Adventure Island, there is one thing that can be relied on to survive any future economic downturn; pester power.
"I don't think [another crisis] would affect us as much as everyone else. The nagging power of children always wins through. It is well known."
Listen to Jonty Bloom's report from Southend on the World Tonight programme on BBC Radio 4 at 22:00BST on Wednesday 29 May and then on the BBC iPlayer.