Birchbox: The company that started a trend by accident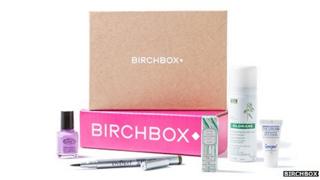 "We don't think of ourselves as a sample-box company." This statement from Katia Beauchamp, co-founder of Birchbox, may come as a surprise to those who credit the cosmetics retailer with starting the craze of subscription sample boxes.
There are a growing number of sample-box companies on the market - customers sign up for a monthly subscription, and receive a box of sample-sized products in the post every month. Categories range from cosmetics, to food, to baby products.
"We inspired a trend of sample boxes," Ms Beauchamp admits, "but our business was always about [wider online] retail."
Birchbox sells beauty products online. But the beauty industry, by its nature, requires customers to actually try a product before they buy it - to see how it looks on your skin, what a perfume smells like and so on.
So while the internet may be great for replenishing your make-up, it's not so good for first-time purchases.
"We recognised that there was an opportunity, and the opportunity was very simple - help sell beauty products for the first time on the internet," says Ms Beauchamp.
"Help a consumer discover the best product, and help brands find a new customer, and use online as a way of doing it."
Inspired a trend
When Ms Beauchamp and her business partner Hayley Barna launched the company in 2010, their business model was based on the process "try, learn and buy".
Customers sign up for a $10-a-month (£6) subscription, and every four weeks receive a box containing about five samples of different products.
Having filled out a questionnaire about their needs and lifestyle, the products should hopefully be catered for them.
They may not be perfect matches but at least if you have straight hair, you won't receive a product for curly hair, for instance.
But the goal was always to use this model to then sell full-sized products on the Birchbox site. Once a customer finds something they like, they can come back and buy it on the website.
And about half of the company's subscribers do just that.
Birchbox's popularity is growing. It now has more than 300,000 subscribers and 400 different brands on board, compared with just eight when it launched.
It recently acquired French firm Joliebox, as it seeks to expand in Europe.
And the idea of sample boxes caught on, even if it wasn't their intention.
Ms Beauchamp still finds it a bit of a shock.
"We inspired a trend, but the only thing people interpreted from that trend was the most superficial aspect of the model, which is boxes of things," she says.
"But there's so much more we do to inspire demand. We're a full retailer."
'Don't sign up'
Nevertheless, Birchbox did inspire a trend - and not just within the beauty industry.
Ken Chen and Gautam Gupta set up Naturebox, which sends out boxes of healthy snacks to its subscribers every month.
Mr Chen says the subscription business model particularly suits the food category.
"Food is bought once a week at the grocery store, or at 3pm we go grab a coffee. So by nature you subscribe to it in one form or another anyway [by your regular purchases]," he says.
Launched in January 2012, Naturebox now has customers in all 50 US states.
But not everyone is a fan of subscription sample boxes.
"Don't sign up," advises Sheryl Garrett, founder of Garrett Planning Network financial planners, who asks why you would want to pay for samples that have traditionally been given away for free, and calls the phenomenon "a brilliant use of marketing power".
"It's just another way to part us from our money," she says, "but it's more fun because something comes in the mail."
She adds: "But if you don't use the stuff, it creates waste. It fills up landfills and has to be thrown away."
However, she sees the popularity of sample boxes growing further, particularly in the food industry, where, she says, "if we're sent a box of edible stuff, most of us will eat it, it won't go to waste".
'Make it easy'
Far from being a waste of money, Ken Chen believes that Naturebox subscriptions, at $19.95 a month, are good value.
"These are full-sized snacks that would go for $4 to $7 a pack in [supermarket] Whole Foods," he says. "Five full snacks give you anywhere from 15-20 servings."
And while you can get samples of beauty products for free, Katia Beauchamp says it requires you to work for it.
"The traditional ways that samples are given for free are either because you buy something so it's a gift with purchase, or you have to go ask sales people for it or sign up online for some contest."
It should be easy for anybody to find the best products, she says.
"Our idea was that people would pay so that it would be personalised for them and that we would make it easy and really lovely to discover beauty products."
And while she does not have anything against sample-box companies themselves, she says what Birchbox does is different.
"The way that sample box companies work is every month they send you something - that's the transaction.
"For Birchbox, every month we send you something and that's how it starts. It's the beginning for us, it's not the transaction.
"The transaction is when you find the products that you love and then you buy them."