Japanese drinks firm Suntory plans $4.7bn share listing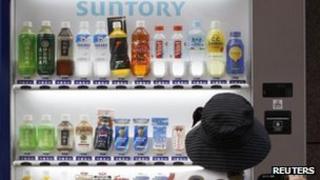 Japan's Suntory Holdings plans to list its food and non-alcoholic drinks unit in what is set to be the country's largest share offering this year.
The firm aims to raise $4.7bn (£3.1bn) from investors after receiving approval to list on the Tokyo Stock Exchange.
Suntory has been looking to offset sluggish domestic sales after merger talks with rival Kirin Holdings failed three years ago.
However, its listing comes during a volatile time for Japan's stock market.
Japan's benchmark Nikkei 225 stock index has gained more than 50% over the past six months, making it one of the world's best performing bourses.
However, shares have plunged recently. Last Thursday, the Nikkei recorded its largest decline since Japan's 2011 earthquake and tsunami disaster.
The index also lost 5.2% to close at 13,589 points on Thursday, in what analysts are calling a steep market correction.
Suntory, which is Japan's second-biggest drinks company, is expected to price the shares next month before they begin trading in July.
The offering will be the country's biggest share sale since Japan Airlines re-listed last September following its emergence from bankruptcy.