Panasonic to cut 5,000 jobs in automotive division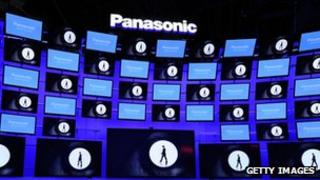 Panasonic has said it plans to cut 5,000 jobs over the next three years in order to improve profits.
The cutbacks will take place in its automotive and industrial unit, which employs about a third of the firm's workforce.
Japanese electronics giants such as Panasonic have struggled to maintain sales amid a slowdown in global demand.
Earlier this month, the Osaka-based firm issued a lower-than-expected profit forecast.
Panasonic said net income in the year from 1 April was likely to be 50bn yen, compared with analysts' expectations for 64bn yen.
The firm has been losing large sums of money for the past two financial years as South Korean rivals such as Samsung have captured a greater market share.
To counter this, Panasonic president Kazuhiko Tsuga has announced a two-year restructuring plan aimed at turning around its struggling consumer electronics division.
This includes shutting some overseas plants and selling off some of its businesses, such as its healthcare and logistics unit.