China buying up the world?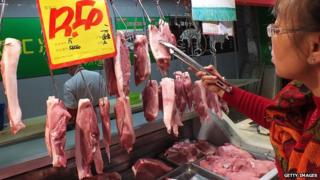 This week, the largest acquisition of a US firm by a Chinese company was announced. Chinese pork producer Shuanghui International had an offer of $4.7bn accepted by US meat giant Smithfield Foods, the world's biggest pork producer.
Just a fortnight earlier, China's State Grid, the world's largest utility firm, said it was investing in a couple of companies in Australia. And China is also branching out into movies. The new owner of US cinema chain AMC theatres, Wanda, is Chinese.
Overseas investments by Chinese firms require permission from the government, because the country controls capital movements across its borders.
But that is rarely a problem if you are in an area favoured by the Chinese government, such as food, technology, resources, etc. In other words, when a Chinese firm wanted to buy Hummer, which makes the giant off-road vehicles, that wasn't approved.
In fact, the government is pushing for more overseas investment as part of its Going Global policy, which was launched in 2000.
The aim is to create multinational companies, with a particular emphasis in the areas that are important to support China's economic development.
There are macroeconomic benefits in helping China diversify its investments (see my earlier post on China's global ambitions). That is why, for firms that meet those aims, the Chinese state can offer to help by financing the deals using its foreign exchange reserves.
One way to create multinationals is to buy existing companies, especially trusted brands, as the Chinese companies hope the goodwill associated with these names will rub off on them.
Lenovo's purchase of IBM's PC business, as well as the use of the IBM brand name for five years, is the most prominent example of this. The aspiration was to make Lenovo synonymous with a global brand known for its quality.
The deal also showcases some of the difficulties, however. A key one is that businesses that are for sale aren't usually the most successful ones.
So what firms such as Lenovo try to do is to make the products more cheaply. A typical Chinese merger and acquisitions strategy involves cutting costs. Plus, the product can be sold to a larger market. A Chinese owner can offer entry into one of the biggest consumer markets in the world. This can work, but can't be taken for granted.
Value of trust
Nowhere is the importance of brand and quality more apparent than in the area of food products.
Shuanghui's reputation suffered when a banned chemical, clenbuterol, which makes meat leaner, was found in its products.
This may explain why the Chinese firm bid $34 a share for Smithfield, more than a third higher than the value of the shares before the bid was announced.
Of course, as pork is a staple of the Chinese diet and the country will consume more meat as it grows richer, the growth potential is sizeable.
With outward investment in quality and brands an important part of China's growth strategy, this may not be the biggest deal for long.
So is China buying up the world? Well, not quite.
China still receives more investment than it invests overseas. But big Chinese takeovers such as these are certain to keep making headlines.