Lloyds raises another £3.3bn in US mortgage bond deal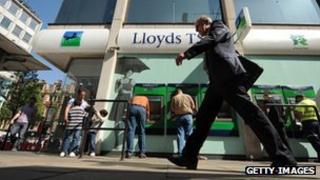 Lloyds has raised another £3.3bn as it continues to strengthen its reserves and dispose of assets that are not part of its main UK banking business.
The bank, which is 39% owned by the taxpayer, has sold a portfolio of US mortgage-backed investments.
Lloyds has been under pressure from regulators to boost the amount it lends to UK households and businesses since its 2008 bailout by the government.
Lloyds said this latest sale would boost core reserves by about £1.4bn.
The bank also said the deal would also give it a pre-tax gain of £540m.
Reserve target
Banks across the developed world are under orders from regulators to strengthen their balance sheets.
Recently, the Bank of England's Financial Policy Committee told the UK's banks they collectively needed to raise £25bn to become strong enough to meet its standards.
Lloyds has been actively selling businesses not central to its UK banking business.
Earlier this week, it announced the sale of its international private banking arm, raising £100m.
It also raised £500m last week by selling a chunk of its stake in wealth management business, St James's Place.
The international banking regulator, the Bank for International Settlements (BIS), has a target for banks to have core reserves of between 10.5-13% of assets by 2019.
Lloyds reserves were last stated formally at 8.1% and these latest sales are thought to have boosted these to about 8.6%.
The bank says it aims to have reserves of 9% by the end of this year, and 10% by 2014, which would put it ahead of the BIS timetable.