Pensions saving 'at all-time low' as 'perfect storm' brews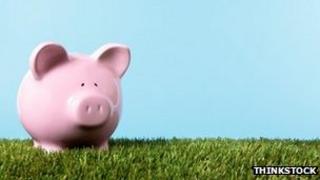 The number of people in the UK saving for retirement is at an all-time low, according to a report by pensions and investments company Scottish Widows.
It said savers were hit by a "triple-whammy" of a weak economy, later first-time home buyers and an ageing population.
One in five Britons are saving nothing at all, while 45% of the 5,200 adults surveyed were not saving enough.
But expectations for retirement income have actually increased.
The report said that the average level of annual income people would feel comfortable living on at the age of 70 is now £25,200 - up from £24,500 in 2012, despite the ongoing sluggishness of the UK economy.
But based on this year's average savings levels, someone retiring at 65 could receive less than half that amount.
"We are being hit with a triple-whammy of, firstly, continued economic uncertainty making it difficult to save for the long-term; secondly the age of first-time buyers rising as we face troubles getting on the property ladder and thirdly an ageing population," said Ian Naismith of Scottish Widows.
"These factors combined create a perfect storm for those heading towards retirement. Whilst we are becoming more aware of the need to save for retirement, we must do more to ensure that we have a comfortable old age."
Scottish Widows said that - though the majority of workers only start thinking about saving for retirement in their Thirties - savers starting even five years earlier could add almost a fifth (£19 to every £100) in retirement income from their private pension, adding £725 to annual income in retirement for someone earning £25,000 and saving at the average rate of 9.1% of earnings.
Starting to save 10 years earlier could add £39 to every £100, adding an extra £1,500 to annual income in retirement, it said.
"Whilst starting saving as soon as possible is highly desirable, and increasing contributions as retirement approaches is almost essential, the biggest single difference can come from postponing retirement," Mr Naismith said.
"The issue is whether a nation that aspires to stop working at 62 and have an annual income of £25,200 can accept this change."
Pensions Minister Steve Webb said: "We know that people are not saving enough for their retirement. Only 30% of private sector workers are members of a pensions scheme and this must change.
"We have introduced automatic enrolment to help take the hassle out of saving and opened it up to those aged 22 and over to ensure the habit of saving starts early.
"We are restoring clarity to the state pension so people will know exactly what they will get in retirement, and how much they need to save on top to achieve the kind of lifestyle they want in the future."