Infosys shares jump as Narayana Murthy returns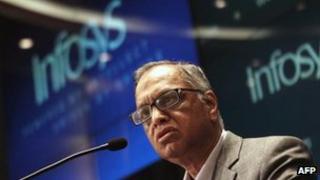 Shares of Infosys, India's second-largest software firm, have risen after the company asked its co-founder Narayana Murthy to return as chairman.
Mr Murthy's return, announced over the weekend, has stoked hopes of a revival in the firm, which has seen its growth rate slow amid weaker global demand.
Infosys shares rose as much as 7% on the Bombay Stock Exchange.
The 66-year old, who had retired two years ago, took charge of the firm from 1 June for a period of five years.
"This calling was sudden, unexpected, and most unusual. But, then, Infosys is my middle child," Mr Murthy said in a statement.
"Therefore, I have put aside my plans-in-progress and accepted this responsibility... I intend to do my best to add value to the company in this challenging situation."
Tough times
India's software firms have enjoyed robust growth over past few years, but more recently their growth rates have slowed.
The economic downturn in key markets such as the US and Europe has hurt demand and dented their growth.
Earlier this year, Infosys predicted revenue growth of between 6% and 10% for the current financial year, which was much weaker than most analysts' expectations of 12% growth.
The company also warned that its profit margins may remain under pressure in the short term amid the challenging global economic environment.
KV Kamath, the current chairman of the firm's board, said that the board had taken the decision to ask Mr Murthy to return to the helm "keeping in mind the challenges that the technology industry and the company faces and in the interest of all stakeholders, particularly shareholders large and small, who have asked for strengthening of the executive leadership during this challenging time".
He added that Mr Murthy's "entrepreneurial and leadership record and the long experience he has had as a technology pioneer makes him eminently qualified to lead the company and provide strategic direction at this point in time".