Eurozone's manufacturing downturn eases in May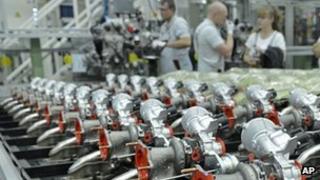 The pace of decline in the eurozone's manufacturing sector eased in May as new orders picked up, according to a closely-watched survey.
Markit's Purchasing Managers' Index (PMI) for the eurozone manufacturing sector rose to 48.3 from April's 46.7, marking its highest level in 15 months.
A reading below 50 indicates shrinking activity.
However, the sector has now contracted for 22 months in a row, according to the Markit survey.
In Germany, Europe's largest economy, the PMI figure rose to 49.4, just below the 50 threshold and marking its highest level for three months.
Spain and Greece saw the most dramatic improvements. Spain's PMI reading of 48.1 was a 24-month high, while Greece's reading of 45.3 was a 23-month high.
"It is reassuring to see the rate of decline ease to such a marked extent," said Chris Williamson, chief economist at Markit.
"The sector still seems some way off stabilising, however, and therefore remains a drag on the economy."
Mr Williamson said the survey indicated that eurozone GDP was likely to have fallen by 0.2% in the second quarter of the year.
If GDP falls again in the April-to-June quarter, it will mean the eurozone's economy has contracted for seven successive quarters.
The bloc's economy shrank by 0.2% between January and March. Last week, the OECD downgraded its forecast for the eurozone's economy again, predicting that it will contract by 0.6% this year,
The European Central Bank has been under pressure to stimulate the economy, and last month cut its main interest rate to a record low of 0.5%. The outcome of its latest meeting will be announced on Thursday.
Mr Williamson said: "Policymakers will nevertheless be pleased to see the downturn not getting any worse, suggesting the ECB will see no immediate need for further action at its June meeting."