Severn Trent rejects improved takeover offer of £5bn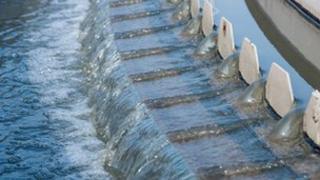 Water supplier Severn Trent has rejected a second takeover offer worth around £5bn from a group of international investors, LongRiver.
Severn said the revised proposal "fails to reflect the significant long term value of Severn Trent".
Last month, the company rejected an offer from the consortium - which includes the Kuwait Investment Authority - worth about £4.96bn.
Severn Trent supplies about 7.7 million people in the Midlands and Wales.
The company said the revised offer equated to only a 16% premium to the share price prior to the news of the takeover interest emerged.
Severn said that the revised offer was worth £21.25 pence per share, but assumed that a final dividend of 45.51p was not paid to shareholders. If this dividend was paid, then the revised offer was worth £20.79.
Chairman Andrew Duff said the offer did not reflect the firm's future potential.
"The board unanimously believes that LongRiver's revised conditional proposal... fails to value the attractions to Severn Trent's shareholders of Severn Trent's increasingly rare combination of yield, inflation-linked business model and potential," he added.
The approach was made by LongRiver Partners - a consortium of investors led by Canada's Borealis Infrastructure and including the Universities Superannuation Scheme - a pension fund.
Trading flat
Shares in the firm were flat after the announcement, trading at £20.52, below the value of the revised offer and suggesting investors did not expect a higher offer.
"We think that the consortium is not likely to meet the board's asking price, which is believed to be around £23 a share," David Abraham, strategist at BTIG, said.
Severn was privatised along with other UK water boards in 1989, and it is the latest UK water company to be targeted by private investors.
UK utilities have proved attractive to international investors in the past.
Both Thames Water and Yorkshire Water have been bought by consortiums including Far East sovereign wealth funds in recent years.