Global airlines set to post $12.7bn (£8.3bn) in profits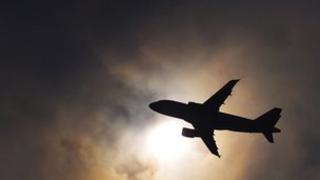 Global airlines are expected to post $12.7bn (£8.3bn) in profits this year, the International Air Transport Association (IATA) has forecast.
Cost-cutting efforts are helping airlines generate profits despite weak economic conditions, the airline industry body said in a report.
The estimate - up on IATA's $10.6bn forecast in March - compared to profits of $7.6bn that airlines made last year.
However, despite cost savings, profits margins still remained thin, it warned.
"We now see structural change and airline efficiency measures to be the more important drivers of an improved financial performance this year," said the IATA report, published to coincide with the body's annual meeting this week, in South Africa.
Lower oil prices and record passenger numbers are also helping to drive profits, it added.
Airlines are expected to fill a record 80% of seats and carry a record 3.13 billion passengers in 2013, due to the structural changes as airlines become more efficient in managing capacity, it said.
The biggest improvements are forecast to be in North America, following the formation by airlines of joint ventures to save on costs.
Airlines in Asia are once again expected to be the biggest earners, while there will also be smaller growth in Europe, IATA said.
Meanwhile, although the "direction of change is positive", profit margins remained very low.
The $12.7bn in net profits that are expected this year make up just 1.8% of estimated revenues worth $700bn, the report said.
Profits boost
"The day-to-day challenges of keeping revenues ahead of costs remain monumental," said IATA director-general Tony Tyler.
"On average, airlines will earn about $4 for every passenger, which is less than the cost of a sandwich in most places," he said.
Airlines are trying to boost profitability through a number of measures, including forming joint ventures and charging for meals, extra baggage, and priority seating.
Revenue from these "ancillary" services are expected to rise to $36bn - or 5% of total revenue - this year, said Mr Tyler.
"These are significant factors that are driving performance," he said.